Chichester Men's Finals Day Report
The 2016 promised to be an exciting an exciting day, with some "new faces" making it through to the final stages of this year's competitions and three people making it through to 3 finals, as a result, play needed to start at 9.30am, with the first up being the MEN'S INVITATION PAIRS :
PETER WHALE & SIMON TOOLEY (18) vs. KEVIN BALL & CLIVE BENHAM (12)
View the result on our honour board
This promised to be a corker of a game, with two of the club's best leads fighting it out at the front and two of the club's most experienced skips slugging it at the back. What a game it turned out to be, lasting over 3 and half hours, with the Skips regularly having to visit the head, as it was changing around so much!
The game was nick and tuck for the first 15 ends, with points being traded equally. The game was 11 ALL after 15 ends, but slowly over the next 3 ends WHALE & TOOLEY managed to eek out a 4 shot lead. The 19th end was to prove pivotal though. WHALE & TOOLEY were holding 1, but only had one wood in the head with BALL & BENHAM having a TAKE-OUT shot for a 6.TOOLEY with his last wood, trailed the jack several feet past the head, thus removing this potential danger and managed to stay just an inch away. BENHAM played a brilliant shot with his lost bowl to remove TOOLEY'S shot bowl, but this scored only 1, as opposed to the match altering 6. This left BALL & BENHAM trailing by 3 with 2 ends to play, but a further 2 for WHALE & TOOLEY on the 20th left Clive with too much to do on the last end.
This was the first of BENHAM & WHALE's 3 encounters!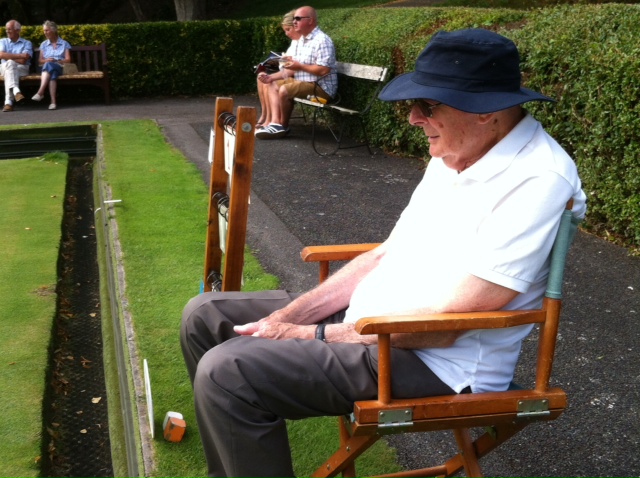 TWO WOODs – DAVID SCHOFIELD (16) vs. NICK ANDERSON (9)
View the results on our honour board
In most games it is never wise to let your opponent get too far ahead, but in the 2 Wood game (where it is the best of 21 Ends) it is even more crucial!
SCHOFIELD scored regularly over the first 8 ends and had built a 10 – 1 lead. Anderson then staged a mini come back over the next 9 ends, winning 6 of them, but four of these were 1s, when he really needed 2s. With David winning a few ends as well, he was able to maintain the distance in the scores built up over those first 8 ends. Result – a comfortable second Two Wood win for Schofield, who last won it in 2002.
VETERAN'S SINGLES - BRIAN BUTLER (21) vs. STUART MEYER (16)
View the results on our honour board
This final pitched Indoors Expert – BUTLER against Club Captain & former Vets. Winner (2010) MEYER.
Again this was another closely fought contest for the first 20 ends.
4 – 5 at 5 ends, 8 – 9 at 10 ends, 12 – 13 at 15 ends, but with BUTLER always just managing to stay 1 shot ahead. A brilliant 3 from Meyer on the 19th squared the game at 16 on the 20th. Sadly this was to be Stuart's last points. Having scored a brilliant 3 (his first and only one of the match), MEYER then immediately proceeded to drop a 3 on the next end, with BUTLER following this up with a 2 on the next. Meyer was crest fallen, having fought so hard. It just shows how cruel this game can be, especially if you drop a sizeable score, so close to the end of a match!
ROLL UP FINAL – LES ETHERINGTON, TERRY WISEMAN, NIGEL DEARMAN (18), vs. ANNA CLAY, CHRIS CORBETT, COLIN HULBERT (11)
This competition is for all those who attend the Tuesday & Thursday morning Roll Up Sessions. Those with the most points, are invited to take part in one final match. Five of the Six had never been in a club final before, so it was a great day for them. All the names were put into a hat and the teams drawn. However when the teams were drawn, it did look very one sided in favour of ETHERINGTON, WISEMAN & DEARMAN and so it appeared for the first 13 ends, with them building a small lead of 12 – 7 . However a 4 on the 14th end for CLAY, CORBETT & HULBERT , brought them back into the game at 12 – 11 down, but again, sadly this was their last shots, with the others scoring six shots over the last 4 ends.
SINGLES CHAMPIONSHIP – CLIVE BENHAM (21) vs. PETER WHALE (15)
View the results on our honour board
This was the game that everyone wanted to come and see, a true "Clash of The Titans", with WHALE last year's defending Champion, versus new to the club (although former England International) – BENHAM.
They'd already met in the mornings Pairs game,but that was different – this was now Lead vs Lead, draw bowling of the utmost class !
At 5 – 1 down after four ends WHALE was doing well, but not quite enough. WHALE then scored a 3 to get it to 5 – 4, but then lost the next couple of ends, including a 3, with BENHAM building up a 12 – 7 lead and this 5 shot margin remained for more or less the rest of the game. Pete fought back to 18 – 15 down on the 20th end, but a final 3 for BENHAM on the 21st saw BENHAM over the line to win the CHAMPIONSHIP.
Interesting fact - over the past 25 years, 6 players have won the Championship in their first full year at the club! Tooley 1992, Bonnar 2010, Larkin 2011, Burt 2013, Bowden 2014 & now Benham 2016. Also it would appear you stand a good chance if your surname starts with a B!
SINGLES PLATE – TONY SAYERS (21) VS. KEVIN BALL (11)
View the results on our honour board
Last year's Plate losing finalist – BALL, was up for going one better this year. Playing in his second final of the day, BALL started well and built up a 7 – 3 lead after seven ends. However SAYERS scored regularly over the next seven ends and by the 14th, had built up a 13 – 8 lead. SAYERS seemed to have found another gear and continued to score heavily amassing more shots over the next few ends. BALL scored a 2 on the 19th to reduce the deficit to 18 – 11, but a count of 2 on the 20th for SAYERS, left him needing only one more short for victory, which he got on the 21st end, giving SAYERS his first deserved title at the club.
THE CHICHESTER – MIXED SINGLES – CLIVE BENHAM (22) VS. PETER WHALE (8)
After a 45 minute break, the "Singles Masters" were back for their final encounter of the day, with WHALE seeking revenge, but this just wasn't to be. BENHAM raised his game to yet another level and proceeded to play a full range of shots, which demonstrated why he used to play for England. WHALE wasn't playing any worse, it was just BENHAM was fantastic. WHALE had only scored on 3 ends and was left reeling at 20 – 8 down after 13 ends. Desperate to save the match, WHALE drew two perfect woods, but BENHAM with his last bowl, fired and took both of WHALE's out - GAME OVER in 14 ends ! WHALE's only crumb of comfort from this defeat: – he took a 4 off BENHAM on the 3rd end to level the game 4 – 4, but that's it.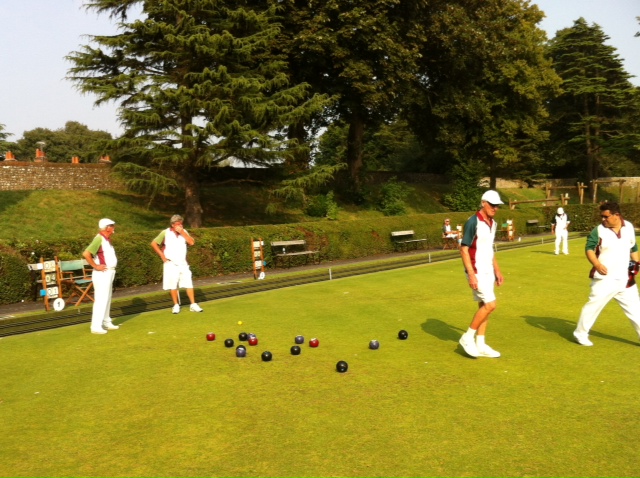 DRAWN PAIRS FINAL – KEVIN BALL & MIKE BAYFIELD (22) vs. COLE PORTER & SIMON TOOLEY (13)
View the result on our honour board
BALL & TOOLEY were back to face each other in another pairs final, albeit with different partners. BALL struggling with back pain and two previously exhausting matches, was on the verge of calling in a substitute, but desperate to finally win something, dosed himself with pain killers and proceeded to play what was probably his best game of the day.
BALL & BAYFIELD were playing well together and were 8 – 1 up after 5 ends. A count of 4 on the 6th end brought PORTER and TOOLEY back to within touching distance, but then proceeded to drop a 3 on the next. BALL had the upper-hand over PORTER and BAYFIELD for most of the time had better heads to bowl into, with them being able to pick up scores of 2s and 3s, whereas PORTER & TOOLEY were only picking up 1s. After 16 ends BALL & BAYFIELD were 20 – 10 up. On the 17th end, TOOLEY with his last wood played a fantastic takeout shot to be left holding a 5, which would've brought them back into the game, but BAYFIELD calmly bowled the perfect saving bowl and scored 1, a six shot turnaround! As the game entered the final few ends BALL was really struggling with back pain and TOOLEY prolonged the agony by killing two ends, but the deciding end was played on the 20th ,with the score poised at 22 – 11, TOOLEY had a potential trial shot for 6, but missed it by the narrowest of margins and only manged to pick up a 2, leaving them 9 down with one end to play, so they conceded the game, with BALL & BAYFIELD being given a thoroughly deserved round of applause to finish off FINALS day at 6.40pm
There is still one competition left to play The HANDICAP SINGLES – MATT BONNAR vs NICK ANDERSON, as Matt was playing in the Finals of The National Mixed Pairs. This will now take place on Saturday 3rd September